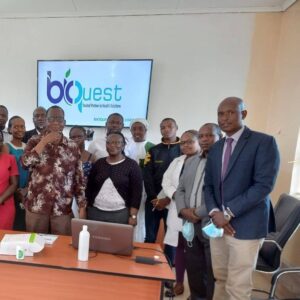 BIOQUEST is a Kenya based company whose core business is distribution and supply of medical diagnostic reagents, consumables and equipments. We work with the stake holders in the sector to identify the emerging new trend in modern medicines, identify reputable manufactures to import from and sells with a profit.
BIOQUEST Kenya limited sells rapid diagnostic test reagents, biochemistry test reagents, microbiology culture media, sensitivity discs, identification reagents, Cytology, histology stains, disposables and consumables.
At no additional charge to the users, we provide value-added services like initial consultations, training on the system upon delivery, and management of annual reorder processes.
Over time, we will contract with leading suppliers to distribute additional complimentary products for Quality control in ensuring high quality is attain in giving out patient result.
Vision
To provide quality and cost effective health care products in Eastern Africa and beyond
Mission & Strategy
To provide Healthcare solutions focused on the needs of our customers and designed to increase the efficiency of Healthcare organizations and to eliminate limitations arising from poor access to medical facilities.
Objectives of Business
The utmost objectives are to provide quality products in laboratory and diagnostic sector.
To ensure excellent customer care in terms of product awareness and supplies.
To engage qualified staff and train staff to reputable level.